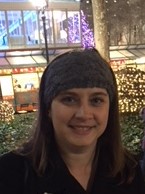 How long have you been a NurturePA mentor?
Just over three years!
What makes the nurture® program so special?
For me, connecting with other mothers has really made a big difference. Building a support network of "mom friends" takes time and so does having a newborn. It's not always possible to build those relationships in the early days of motherhood. I love that NuturePA gives new moms their first connection to another mother so that she can learn to lean on others for support.
What is your favorite part about being a NurturePA mentor?
Celebrating milestones with the moms is my favorite part of mentoring. I've been connecting weekly with some of them for three years and I truly look forward to hearing from them each week. It's effortless — like checking in with a friend.
Tell us about a time when you feel like you made a positive impact on the life of a mom and her new baby.
When a mom reaches out to me spontaneously to ask a question or share something, I feel like I have accomplished the goal of being a friend to turn to at any time.
Tell us a little bit about yourself,
Before I became a mom, I earned a Master of Library Information Science (MLIS) and was a School Librarian. I am currently stay-at-home mother of one very vibrant (almost) five-year old. I can usually be found in the kitchen. I love to cook!