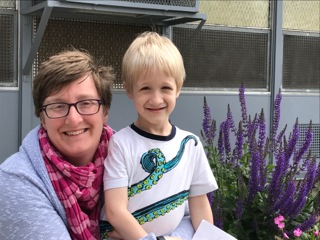 How long have you been a NurturePA mentor?
I've been a mentor since November 2016.
What makes the nurture® program so special?
I love the idea of a voice speaking to moms, just a small voice reassuring them that they're doing great. Thinking back to the early days of motherhood, when not many of my friends had babies yet, I could have really benefited from another mom just consistently checking in and telling me my bond with my baby was special. I love that this program is like an extra hug for moms, with a side serving of information and connection to resources where needed.
What is your favorite part about being a NurturePA mentor?
I really find it fulfilling to give back. I've received so much kindness from other moms and it feels nice to just share encouragement. Parenting small people is tremendously difficult. If I can be of some small help, that feels really good.
Tell us about a time when you feel like you made a positive impact on the life of a mom and her new baby.
One of my moms was really struggling to afford diapers for her baby. I was able to speak with someone from the United Way's 211 call center to identify diaper banks throughout the region and really connect this mom with a vital resource she needed right away.
Tell us a little bit about yourself,
I work as a freelance writer and I have 3 sons under 7, so most of my energy goes toward the gritty work of parenting very young children. I led our local chapter of the International Cesarean Awareness Network for many years, served on the board of directors at the Pittsburgh Toy Lending Library, and became a peer breastfeeding counselor with Breastfeeding USA. All of those organizations were a great help to me throughout my motherhood experience! My youngest son starts preschool this fall, so I plan to celebrate that milestone by climbing a 14,000-foot mountain in Colorado. If I have any breath left at the top, I'm going to dance for joy.