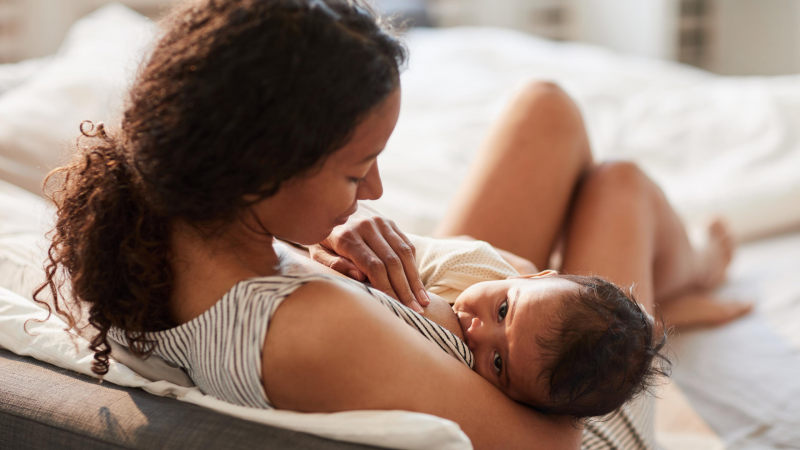 In recognition of National Breastfeeding Month, we talked to Lactation Consultant, Ellen Rubin from the Breastfeeding Center of Pittsburgh to learn what new moms should expect, how they can get support and how to deal with challenges. 
What should expecting moms know about breastfeeding and how should they prepare? 
Learning about normal infant behavior can be a useful foundation for breastfeeding success.  We tend to think of babies as helpless, but they are actually resourceful little humans who have the drive to breastfeed. 
Positioning for feeding can make an enormous difference and considering how we adults eat often applies to babies. For example, none of us enjoy swallowing with our chin touching our chest (give it a try!), so we'd want to avoid holding a baby like that at the breast. Understanding how you can work with your newborn as a team and support their nursing skills can lead to a more comfortable experience for both of you. Participating in a prenatal breastfeeding class can provide new parents with skills and a road map towards meeting their feeding goals.
What are the best resources available for breastfeeding moms?
Spending time around other nursing parents can be a great way to see different approaches, try things out, and decide what works for you. When it isn't safe to meet in person, many groups hold virtual meetings and while not quite the same, it is great to hang out with other parents of young children online as well. The videos from Global Health Media on breastfeeding best practices are excellent.  I also like these sets from Nancy Mohrbacher Solutions and The Institute for the Advancement of Breastfeeding and Lactation Education.
What should moms do if they experience breastfeeding challenges during the first few days postpartum?
If a nursing parent is experiencing pain or is worried that the baby isn't getting enough milk, meeting with a lactation consultant (IBCLC) can be a great resource.  Ask your pediatrician for a referral.  Once you've met with an IBCLC, if it feels like things aren't on track when you are at home, don't hesitate to call them for follow-up.  Additional support can be found by calling a lactation volunteer counselor (such as a La Leche League Leader) who can be a source of tips and encouragement.  
What can moms do to process any gaps between their expectations in terms of how they thought breastfeeding would be and their actual experience?
If breastfeeding is your goal, it is well worth pursuing!  While the learning curve can feel steep at first, once you begin to pick up speed it can become a very smooth path – providing health advantages to baby and family, plus also a part of your parenting toolbox. Whatever the feeding goal, parents deserve to receive support and information about how to accomplish it. Plans cannot always be fully realized, but the hope is getting close and landing on a feeding method that everybody feels comfortable with.  
How can families/friends support new moms in achieving their breastfeeding goals?
Encourage expecting parents to gather as much information as possible and consider what feeding approaches may work best for their family.  Share these goals with other support people – family, friends, health care providers.  If challenges are encountered, worried support people may respond by encouraging a switch to a new plan.  Instead – continue the conversation!  Often a more rewarding approach is to review what they had hoped to accomplish and to ask if that is still their aim.  Help parents advocate for resources to work towards these goals.
Check out the work of Ellen and her team at the Breastfeeding Center of Pittsburgh! If you are a new or expecting mom, consider requesting a mentor with NurturePA for an additional layer of support and guidance to the resources you need when you need them.